Understanding & Optimizing Extrusion Seminar with LAB, 3 day Seminar
April 20-22, 2016
D. R. Joseph, Inc.
Arlington, TX
by Chris Rauwendaal

About the Seminar

The purpose of this seminar is to develop a thorough understanding of the extrusion process and the ability to apply it to solve actual extrusion problems. The extrusion process will be broken down into discrete functional zones: solids conveying, melting, melt conveying, mixing, and degassing. The different functional zones will be discussed in detail with an emphasis on the mechanisms at work in each zone. After establishing the engineering principles of extrusion, practical applications of these principles to screw design, die design, and troubleshooting will be discussed in detail. Attendees are encouraged to ask questions and discuss actual extrusion problems. Advanced tools for analysis, design, and troubleshooting will be discussed and demonstrated in the class. Dr. Chris Rauwendaal's book "Understanding Extrusion" is suggested as a companion to this seminar, to order the book directly go to Hanser Publications.

Seminar Hours and Cancellation Policy
RECOMMENDED HOTEL:

· Courtyard Dallas Arlington South
711 Highlander Boulevard
Arlington, Texas 76015
+1-817-465-5599
$119.00 USD rate available from:
Start date: 4/18/16
End date: 4/22/16
Last day to book: 3/18/16
Marriott hotel(s) offering your special group rate:
To book click on link below.
Course Description
Introduction
• Basic components of an extruder
• Review of terminology
Hardware components of an extruder
• Screw, barrel, and feed system
• Grooved feed extruders
• Screw drive systems
• Breaker plate and screens
• Gear pumps
• Heating and cooling
• Instrumentation and control
Polymer properties important in extrusion
• Melt flow properties
• How to determine flow
properties directly
from the extruder
• Thermal properties
• Viscous heat generation
• How polymer properties can
be used to set
correct processing condition and improve
the extrusion process
Functional aspects
• Solids conveying
* Gravity induced conveying
* Drag induced conveying
* How to improve solids conveying
• Plasticating or melting
* Contiguous solids melting
* Dispersed solids melting
* How to improve melting
• Melt conveying
* Drag flow
* Pressure flow
* Leakage flow
• Devolatilization or degassing
• Mixing
* Basic mechanism of mixing
* Distributive mixing
* Dispersive mixing
* How to improve mixing
" Understanding Extrusion " (UE) can be purchased from Hanser Publications www.hanserpublications.com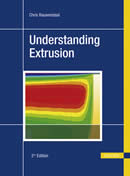 Course Description (continued)
Screw design
• Standard extruder screw
• Variations on standard screw
• Mixing screws
• Barrier type screws
• Multi-stage screws for venting
• How to improve performance by
optimizing screw geometry
Die Design
• General rules and guidelines
• Analysis of dies
• Die flow instabilities
• Sheet and flat film dies
• Tubing and pipe dies
• Profile dies
• Coextrusion dies
Twin Screw Extruders
• Twin vs. single screw extruder
• Co-rotating twin screw extruders
• Counter-rotating twin screw extruders
• Co- versus counter-rotating extruders
• Non-intermeshing extruders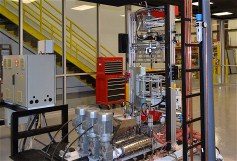 3 Layer Blown Film Line at D. R. Joseph, Inc.
LABORATORY SESSION 2nd afternoon
• Start up of the line - we will discuss basic startup procedures and what process parameters should be monitored. Special emphasis will be place on things not to do and safety issues.
• Once the line is up and running we will discuss proper monitoring of the extrusion process and how to interpret process information.
• Several problems will occur during the run and the attendees will be asked to figure out how to solve these problems.
• At the end of the lab session we will show how to properly shut down the line. We will discuss basic shut-down procedures and what to look out for. We will talk about the DOs and DONTs in shut down.
• Attendees will see the Kundig Offline Thickness Gauge and have a brief presentation on other test equipment (Elmendorf Tear, Dart Impact, Tensile/Peel, COF, Haze/Gloss/Transmission, Color Spectrography, and infrared camera).
Books authored by Chris Rauwendaal:
Understanding Extrusion
Polymer Extrusion
Troubleshooting the Extrusion Process
SPC in Injection Molding and Extrusion
Polymer Mixing (available from Rauwendaal Extrusion Engineering, Inc.)
Mixing in Polymer Processing (available from Rauwendaal Extrusion Engineering, Inc.)
When ordering books from Hanser Publications use the code RAU2014 for a 25% discount
About the Instructor:

Dr. Chris Rauwendaal has been a top seminar instructor for more than 30 years. He has taught with SPE, UWM & UC Berkeley & teaches many in-house courses. He is a well known plastics author. Chris has 35+ years experience in the plastics industry. His experience is in a wide range of extrusion operations, including fiber spinning, film, sheet, tubing, medical tubing & profile extrusion, coextrusion, and reactive extrusion. He has worked on both practical and theoretical problems such as screw & die design, troubleshooting, modeling and computer simulation, material analysis, failure analysis, etc. Chris has authored 6 books on extrusion and related fields.
Since 1990 he has been President of Rauwendaal Extrusion Engineering, Inc., a company that provides custom extruder screws and other extrusion hardware, training programs, engineering & expert witness services to the plastic industry. With screw design as his specialty, over the past 5 years REE had developed patented technologies in the following areas:
• Elongational Mixing Devices
• Mixing non-return valves
• Single screw compounding extruder
• Cooling screws for foam extrusion
For registration contact: chris@rauwendaal.com
For seminar content contact: chris@rauwendaal.com