Course Description
Plastics compounding
What is plastics compounding?
Compounding machinery
Plastics used in compounding
Fillers used in compounding
Direct extrusion
Starve feeding vs. flood feeding
Degree of fill
Twin screws for compounding
Twin vs single screw extruders
Co-rotating extruders
Counter-rotating extruders
Barrel heating and cooling
New TSE developments
Functions of co-rotating TSE
Feeding and solid conveying
Melting
Melt conveying
Mixing
Distributive mixing
Dispersive mixing
Degassing
Viscous dissipation
Pressure generation
Computer simulation
Screw design for co-rotating TSE
Basic screw geometry
1-, 2-, and 3-flighted screws
Basic geometrical relationships
Conveying elements
Mixing elements
Special screw elements
Screw design principles
Proper assembly of screw elements
Screw design examples
Materials of construction
Coatings and surface treatment
Computer aided screw design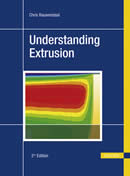 Course Description (continued)
Scale-up of co-rotating TSE
Volumetric scale-up
Specific energy consumption
Shear rate
Heat transfer
Residence time
Examples
Operating twin screw extruders
Safety issues
Starting the extruder
Screw speed and degree of fill
Temperature controllers
Current limit protection
Shut-down
Troubleshooting TSE
Mechanical problems
Screw wear
Barrel wear
Overloading the motor
Excessive torque on screws
Functional problems
Venting problems
Feed problems
Pressure development
Poor mixing
Quality problems
Poor dispersion
Degradation
Filler agglomeration
Maintenance guidelines
Safety issues
Gear box maintenance
Screw drive motor
Vacuum system
Screw and barrel sections
Preventive maintenance
Books authored by Chris Rauwendaal:
About the Instructor::

Dr. Chris Rauwendaal has been a top seminar instructor for more than 25 years. He has taught with SPE, UWM & UC Berkeley & teaches many in-house courses. He is a well known plastics author. Chris has 30+ years experience in the plastics industry. His experience is in a wide range of extrusion operations, including fiber spinning, film, sheet, tubing, medical tubing & profile extrusion, coextrusion, and reactive extrusion. He has worked on both practical and theoretical problems such as screw & die design, troubleshooting, modeling and computer simulation, material analysis, failure analysis, etc. Chris has authored 6 books on extrusion and related fields.
Since 1990 he has been President of Rauwendaal Extrusion Engineering, Inc., a company that provides custom extruder screws and other extrusion hardware, training programs, engineering & expert witness services to the plastic industry. With screw design as his specialty, over the past 5 years REE had developed patented technologies in the following areas:
• Elongational Mixing Devices
• Mixing non-return valves
• Single screw compounding extruder
• Cooling screws for foam extrusion
For registration contact: chris@rauwendaal.com
For seminar content contact: chris@rauwendaal.com