Extruder Maintenance Seminar
by Dr. Kirk Cantor
October 27, 2017
D. R. Joseph, Inc.
921 W. Harris Rd.
Arlington, Texas, 76001
+1-817-987-2030

Printable Outline and Faxable Registration Form. We will send you an invoice and you can use the custom payment area on our home page to make a payment with a credit card or use a PO# and send us a check.-->

NEARBY HOTELS
La Quinta Inn South
4001 Scots Legacy Dr, Arlington, TX 76015
Phone: (817) 467-7756
Holiday Inn Express Arlington (I-20 & Parks Mall)
1721 Pleasant Pl, Arlington, TX 76015
Phone: (817) 784-8750
Residence Inn South
801 Highlander Boulevard
Arlington, Texas 76015
+1-817-465-2244
Courtyard Dallas Arlington South
711 Highlander Boulevard
Arlington, Texas 76015
+1-817-465-5599
For Seminar Questions Contact: Chris Rauwendaal 530-269-1082 or chris@rauwendaal.com
About the Seminar

This one-day program focuses on proper maintenance of polymer extruders, both single screw and twin screw. Upon completion of this seminar, attendees will be able to:
describe how to safely maintain and operate an extruder
identify the primary extruder components requiring maintenance and explain how best to maintain them
discuss how screw and barrel construction influences wear rate and extruder performance
describe troubleshooting methods for extruder mechanical problems
What the attendees will learn:
safety considerations when operating and maintaining extrusion systems
components comprising the extruder drive system and how to maintain them
screw and barrel characteristics, including materials of construction, clearance issues, alignment, and maintenance
extruder instrumentation calibration, installation, and diagnostics
proper extruder operating procedures
common methods and materials for purging
troubleshooting extruder mechanical problems
Who should attend:
Operators
Set-up technicians
Process engineers
Maintenance mechanics
Floor supervisors
Plant managers
Testimonial from previous Seminars

Seminar Hours & Cancellation Policy
Course Description
Introduction to Extruders

Single Screw Extruders
Twin Screw Extruders

Safety

Moving Parts & Nip Points
Electricity/Grounding
High Temperatures
High Pressures

Drive System

Motor
Gearbox
Thrust Bearing

Screw and Barrel

Materials of Construction

Standard Materials
Corrosive Resistance
Wear Resistance
Specialty Materials
Screw/Barrel Material Compatibility

Flight Treatment
Screw/Barrel Clearances

Heated Barrel
Cooled Feed Throat

Screw/Barrel Wear
Barrel Alignment

Consequences of Misalignment
Alignment Techniques

Feed Housing

Temperature Control
Cooling Channel Blockage

Screw/Barrel Cleaning

Pulling Screw
Cleaning Screw/Barrel
Measurements
Breaker Plate/Screen Pack Installation
Replacing Screw

Instrumentation

Sensor Calibration
Heater Installation and Diagnostics
Thermocouple Installation and Diagnostics
Pressure Transducers
Course Description (continued)
Proper Operation Methods

Start-up
Normal Operation
Shutdown

Purging

Material Types
Purging Methods

Troubleshooting Mechanical Problems

Vibrations/Unusual Sounds
High/Low Temperature
Low/No Output
Output Instabilities
Excessive Pressure
Vent Flow
Plastic Leakage
Workshop: Extruder Operations & Maintenance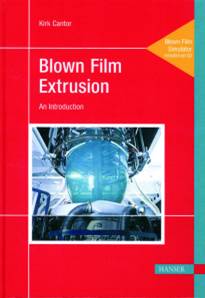 Books authored by Kirk Cantor:
Books authored by Chris Rauwendaal:
Understanding Extrusion - suggested reading!
Polymer Extrusion
Troubleshooting the Extrusion Process
SPC in Injection Molding and Extrusion
Polymer Mixing
Mixing in Polymer Processing
When ordering our books from Hanser Publications use the code RAU2014 for a 25% discount.